Rocca di Frassinello
Rocca di Frassinello is located near Grossetto in the North of the Maremma region of Toscana. The winery is beautiful with one of the largest cellars in the world designed by Renzo Piano. Rocca is actually a joint venture between two heavy-weights of the wine world, Chianti producer Castellare di Castellina and the legendary Lafite from France. The Rocca di Frassinello became a big project when happened the arrival of Domain Baron De Rothschild-Lafite, making the first join venture between an Italian and French producer.
---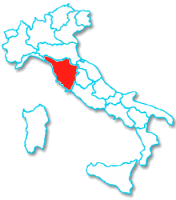 Toscana
Wine has literally been a part of the Tuscan civilization for over 3,000 years. From the time the ancient Etruscans settled in the gentle rolling hills of Tuscany, viticulture and wine production have been an important element of everyday life and indeed was even considered to be mystical. Tuscany is a much larger region than many people realize and it encompasses many different wine regions and climate types. The one thing most regions have in common is the selection of grape varietals. In general, Sangiovese is the dominant red varietal and Trebbiano is the dominant white varietal. The north west of Tuscany is mountainous and is famous for the beautiful Apuan Alps. The climate in the north is continental with hot summers and freezing winters.