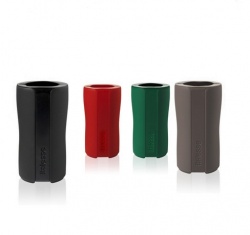 Italesse
BCOOL, mini glacette
Description
Mini silicone cooler designed to contain 33 cl bottles. Soft to the touch, it's grip has been thought out with the precise aim of keeping the drink cool and at the same time not getting hands frozen or wet. This is possible thanks to the flaps fixed inside the sides and on the bottom. These keep a distance between the wall and the bottle and lift it up to create the air chamber needed to keep the internal temperature of the drink constant for as long as possible.
Colours
Black, green, red, earl gray
Materials
Silicone
Use
Keep cool bottles of 33 cl. Alternative use: keep cool cans.