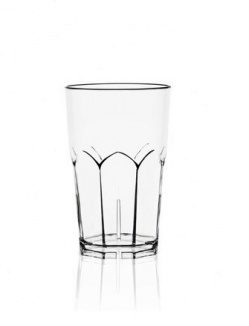 Italesse
NITE cc 380, clear
Description
Transparent tumbler, made in unbreakable polycarbonate conceived especially for night life. From a total capacity of 370 cc, Nite is gifted of a very various capacity service. At 2,5 cm from the upper section of the tumbler it can hold 270 cc of product, while immediately above the "wings" the level of service is of 195 cc.
Brand new are the base and the inner part. The base, instead of being smooth as for the other tumblers, it is equipped with some grooves that permit an easier drying of the bottom, especially if the tumbler is upside down. There are light pods also inside the tumbler aimed at avoiding the eventual "vacuum-packed" effect, making it easier to slip off the tumblers when they are stacked.
Colours
clear
Materials
Policrystal®
Use
Appropriate for serving cocktails, long and soft drinks.