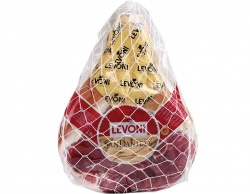 Levoni
San Daniele Ham PDO - Prosciutto di San Daniele DOP Boneless
Ref: LV-116
Weight: 7 to 8 kg
Shape: Boneless vacuum pack
Maturation: from 13 to 16 months
EU Quality Scheme: PDO (Protected Designation of Origin)
Notes: Non-pressed, twine tied by hand. Production plant approved fror China market, stock available in China with all the health certificates.
The Levoni Prosciutto crudo di San Daniele is produced according the strict standards of the production regulation of the san daniele Prosciutto Consortium in North east side of Italy. Pork legs come exclusively from heavy pigs weighing at least 160 kg, bred in northern and central Italy, this ham is produced by Levoni San Danile Prosciutto curing plant in San Daniele, Friuli Venezia Giulia area. Levoni Prosciutto di San Daniele PDO is characterised by a particularly mild and delicate taste and is boneless so is ready to slice.