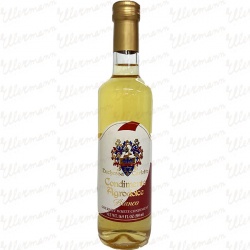 Duchessa Carlotta
White Balsamic Condiment 500 ml
Ref: DUC-892
Size: 500 ml glass bottle
White Condiment is a versatile seasoning with a good freshness and balanced acidity, it can be used for any recipe, thanks to sweet notes of ripe fruit, dried yellow fruits and citrus.
Ingredients: White grapes and white wine vinegar.
Ageing: Aged in ash barrels
Serving Suggestions: As an addition to seafood and vegetarian dishes, Fusion cuisine, such as salads with citric fruits.