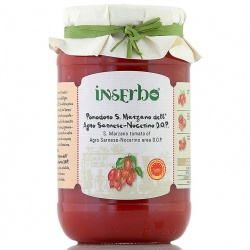 Inserbo
San Marzano Tomato of Agro Sarnese-Nocerino area PDO
Ref: INS-POMSM520
Weight: 520 g, 12 glass jar each carton
Description: San Marzano Tomato of Agro Sarnese-Nocerino area PDO
Inserbo Tomatoes San Marzano PDO from the Sarnese-Nocerino area is consider the King of all Tomatoes. Due his particular shape elongated and bilobed and intense red color from yellowish vein is the only one that will not shatter during the processing cycle. Only with Original PDO San Marzano tomatoes you can get a high-quality peeled tomatoes and taste his supreme flavor.
The quality of the PDO San Marzano are the hot land of Vesuvius and the environmental conditions favored by the mild climate, due to the proximity of the sea.
It was born from the intersection of three varieties at the beginning of the 900 century were quite wide spread in Sarno and throughout the Agro Sarnese-Nocerino territory: the Fiascona, the Fiaschella and King Umberto.
All Tomatoes San Marzano processed for this product, it comes directly from the land of the Agro Sarnese-Nocerino and are picked and processed the same day. Is a Gluten-free and No GMO product.