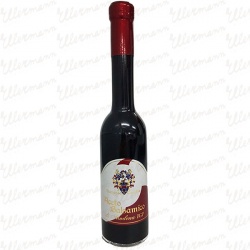 Duchessa Carlotta
Premium Balsamic Vinegar of Modena IGP Sinfonia 250 ml
Ref: DUC-833
Size: 250 ml Sinfonia glass bottle
Sinfonia is a premium line of a IGP Balsamic Vinegar of Modena made without adding any additional sugar. With a hinger density and sweetness, this liquid donates aromas and flavors of fruit jam and enriches a wide variety of daily dishes. For whom want a wide bouquet of aromas and balanced with a pleasant balsamic acidity.
Ingredients: Must of cooked, sundried grapes, aged wine vinegar.
Ageing: In a old oak barrels with the addition of aged balsamic vinegar
Serving suggestions: As an additional to fresh pasta dishes, such as ravioli, selected cuts of beef, soft cheeses, fresh fruit and desserts.