ArPePe
In 1984, Arturo Pelizzatti Perego, bolstered by the experience gained in his father's and grandfather's firm, decided to create ARPEPE. His aim was to realize the full potential of the unique Valtellina terroir with all the pride and determination required for such an ambitious goal. To do so, Arturo started producing long-aging Nebbiolo wines according to the rules of the oldest traditions.
Today, Isabella, Emanuele and Guido continue their father's work as the fifth generation of winemakers and growers. In just a few years, thanks to careful technological innovations and the choice of a young and passionate team, Arturo's dream has come true: his rare wines are once again a major point of reference on the national and international wine scene.
The vineyards in Valtellina stretch over steep and stony slopes, where nature has been testing the farmer for centuries, in the struggle for the realization of a wonderful, peerlees work. Wall above wall, broken only by arduous strips of vineyards, on the rocky steps are the roots which get the richness of the soil. The position of the valley, from East to West, allows the Rethian side to be in the sun all day long. We follow the product from the vine to the bottle with the care that you can have when you love your job,and this is something which cannot be separated from our history.
Actually our family has given a demonstration of this passion through five generations: our father's great grandfather Giovanni was already a wine grower and maker in the far off 1860.
---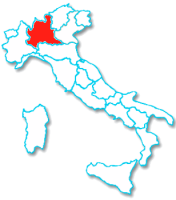 Lombardia
Lombardia (Lombardy) is a region situated in the north central of Italy. In the lowland the winters are frigid and the summers sultry. During autumn and winter there are dense and persistent fogs. In the hills the fogs are less frequent as well as the warm summers. In the mountain instead the climate is very rigid and milder on the lakes of prealps. The region is known particularly for its sparkling wines made in the Franciacorta and Oltrepò Pavese areas. Lombardy also produces still red, white and rosé wines made from a variety of local and international grapes including Nebbiolo wines in the Valtellina region, Trebbiano di Lugana white wines produced with the Chiaretto style rosé along the shores of Lake Garda.;