Castellare di Castellina
Poderi Castellare di Castellina is a company of about 80 hectares in the heart of the Chianti Classico area, close to the village of Castellina in Chianti. The hectares of vineyard are almost 33, located on the hills of a natural amphitheatre facing southeast. The production is of about 250.000 bottles of wine per year. To a middle altitude of 370 m. above sea level the vineyards have an age between 5 and 30 years. Castellare di Castellina was born in 1968 from the consolidation of five farms. A good exposure to the sun, a good drain of the water, a mixed ground of calcareous marls, galestro and little clay give wines both red and white, which are very well structured, intense and proper for a long ageing in bottle.
---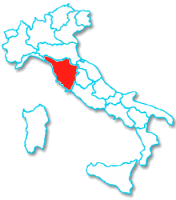 Toscana
Wine has literally been a part of the Tuscan civilization for over 3,000 years. From the time the ancient Etruscans settled in the gentle rolling hills of Tuscany, viticulture and wine production have been an important element of everyday life and indeed was even considered to be mystical. Tuscany is a much larger region than many people realize and it encompasses many different wine regions and climate types. The one thing most regions have in common is the selection of grape varietals. In general, Sangiovese is the dominant red varietal and Trebbiano is the dominant white varietal. The north west of Tuscany is mountainous and is famous for the beautiful Apuan Alps. The climate in the north is continental with hot summers and freezing winters.