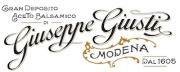 Aceto Balsamico Giuseppe Giusti Modena
The Giusti family has directly guided the company since 1605, with passion and a long term strategy, arriving today at the 17th generation. Claudio and Francesca, together with Luciano, continue the project started by their ancestors, uniting a respect for tradition with a flexible, modern and sustainable company management, centered on well being and valorization of the people, the territory and the community with which it engages.
Obtaining a great balsamic vinegar depends on the competence, experience and taste of its maker. Not only a careful selection of the grapes, but also the cooking system and above all the great complexity of the ageing process, with casks of various woods and sizes. These are the factors that the "maestro acetiere" needs to manage to obtain a great result. Not to forget time, an important element for course of the natural processes; traditionally, a generation prepares the balsamic vinegar for the next generation.
Today as always, Giusti's Balsamic Vinegar lives up to its reputation: distributed to the most prestigious specialty provenders of Italy and throughout the world, it has been chosen by international chefs as an excellent expression of Balsamic Vinegar and Made in Italy. And still, the highest score available at the "Superior Taste Award" in Brussels and a quotation in the international best seller "101 things to buy before you die".

---